Smart vending machine with mobile top-up
Build upon decades of IoT payment experience, Forth Smart Vending Solution has brought vending machines into the online era. The complete solutions enable touchscreen user interface, interactive marketing, cashless and mobile payment, and cloud base management for a vending business. Forth helps the vending operators to better serve online era consumers, increase sales, improve efficiency, and boost profits.
We are a leading vending machine service provider in Thailand.
Our smart Vending Machine is designed to check the operation status of the machine automatically, which means without human force. Information, such as stock status, temperature status, selling status, and workable status will be sent to the monitoring center in real-time. Moreover, monitoring centers will be alerted when any aspect of the machine does not meet the standards. Therefore, the management of machines will be more cost-effective and accurate.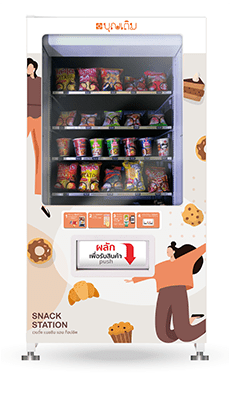 Spiral vending machine
Refrigeration system: The compressor adopts imported brand, quality guarantee, low energy consumption Delivery methods: Spring tray drawer runner Stand-alone data export: Through the USB interface, to facilitate the adminstrator export, manage and analyze sales data. Dispensing Speed (s): 3 seconds Cabinet Material: Stainless Steel Glass Door Material: Tempered glass
Dimension(cm): 192(h) X118(w)X85(d)
Weight: ~300kg
Capacity: 300-600 products
Voltage: 110V/220V,60/50HZ
Power: 600W(cold) /650W(hot)
Goods: General merchandise
​Advantage of Product:
Real-time inventory status and dynamic refill alerts
Refill planning and dynamic routing
Detailed sales report and analytics
Support mobile wallet
Support QR code, coupons and more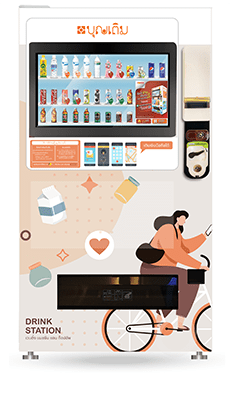 Touchscreen vending machine
Refrigeration system: The compressor adopts imported brand, quality guarantee, low energy consumption Delivery methods: Spring tray drawer runner Stand-alone data export: Through the USB interface, to facilitate the adminstrator export, manage and analyze sales data. Dispensing Speed (s): 3 seconds Cabinet Material: Stainless Steel Glass Door Material: Tempered glass
Dimension(cm): 192(h) X130(w)X85(d)
Weight: ~320kg
Capacity: 300-600 products
Voltage: 110V/220V,60/50HZ
Power: 600W(cold) /650W(hot)
Goods: General merchandise
​Advantage of Product:
Real-time inventory status and dynamic refill alerts
Refill planning and dynamic routing
Detailed sales report and analytics
Remotely update advertising and media contents
Support mobile wallet
Support QR code, coupons and more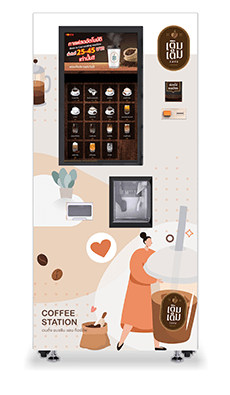 Coffee vending machine
Refrigeration system: The compressor adopts imported brand, quality guarantee, low energy consumption Delivery methods: Spring tray drawer runner Stand-alone data export: Through the USB interface, to facilitate the adminstrator export, manage and analyze sales data. Dispensing Speed (s): 3 seconds Cabinet Material: Stainless Steel Glass Door Material: Tempered glass
Dimension(cm): 192(h) X100(w)X85(d)
Weight: ~300kg
Capacity: 300-600 products
Voltage: 110V/220V,60/50HZ
Power: 600W(cold) /650W(hot)
Goods: General merchandise
​Advantage of Product:
Real-time inventory status and dynamic refill alerts
Refill planning and dynamic routing
Detailed sales report and analytics
Remotely update advertising and media contents
Support mobile wallet
Support QR code, coupons and more
For More Information, Please Contact: