Boonterm Water Dispenser uses both a reverse osmosis purification system and UV sterilizer to produce clean water. It has a water quality detector and will automatically shut down its operation if the quality is below safety standards to ensure customers will always get clean water.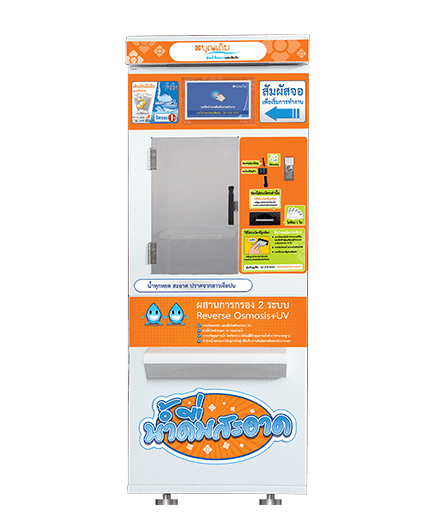 Boonterm Water Dispenser
not only serving drinking water The kiosk is also equipped with a touch screen that comes with Boonterm financial services. Therefore, it can be used as a mobile phone top-up service point, bill payment, and many other services. In addition, the Boonterm water dispenser is also connected to FORTH's online system, so the cabinet installer can check the working information via computer or mobile phone anytime, anywhere.
Featured
Top up service and receive bill payments for all services as well as the Boonterm cabinet and more than 40 other bill payment services, including bill payment services Utilities such as the Metropolitan Electricity Authority Provincial Electricity Metropolitan Waterworks Authority Provincial water supply
Compact size can be moved easily Therefore, it can provide payment service to customers easily.
Touch operation with an easy-to-use menu This allows the agents to provide the service to understand and use immediately.
There is a system to store transaction data and can print a confirmation of past transactions.
Online software upgrades by ordering from the company's operations center to keep up to date and new services to continuously meet the diverse needs of customers
For More Information, Please Contact: