We strive to continually improve patient, resident, and worker safety in healthcare, business, and other settings. Our advanced life safety and nurse call systems are designed with cutting-edge technology for monitoring, detection, and notification in a variety of facilities.
Caring for patients with a nurse call system build peace of mind and trust for patients and their relatives. Especially during emergency times, which can happen at any time. Nurses can help patients who need help immediately when there is an alarm signal without having to check at a monitor.
Forth, which specializes in telecommunication systems, takes into account that issue. Therefore, an advanced technology in the communication system has been applied to our nurse call system to enhance speed and accuracy. The sound quality is good and clear even the patient speaks in a low voice.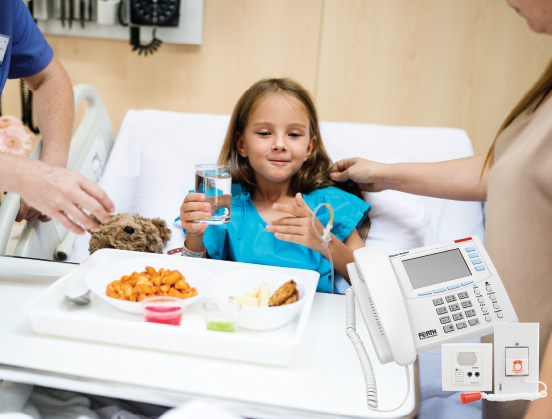 NC 64 series is a nurse call system.
NC 64 series is a nurse call system that is constantly developing from the exiting NC Series, which adopts digital signal processing technology, or DSP, making conversations between patients and nurses clearer by cutting the surrounding sound when talking and reducing the echo signal. The NC 64 series is a full duplex communication that allows instant response without having to wait for the other party to finish speaking.
There is no limit to the number of patient calls and can be called at the same time. In addition, each point of call signal system can be added independently follow to the hospital area and the peripheral design of system for the patient room has independent CPUs. Even if the control point is damaged, nurses or staff are also able to know if the patient has asked for help. By the signal lights at the head of the bed or in front of the room transmitting

For More Information, Please Contact: